Featured Trailers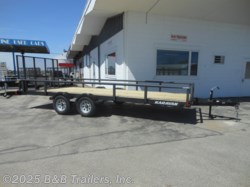 2021 Karavan KTPU-6500-82-18
Steel Frame Utility Trailer, Wood Deck, Fold Down Sides, Spring Axles, Electric Brakes, 13" Tires Questions? 262-673-4100
$4,850.00
View Details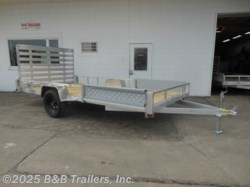 2022 Quality Aluminum 8214ALSL
82x14 Aluminum Frame Trailer, Wood Deck, Rail Side, Rear Ramp, Spring Axle, 15" Tires, Spare Tire Mount, Side ATV Ramps Questions? 262-673-4100
$3,985.00
$3,586.00
View Details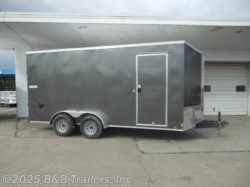 2022 Pace American Journey SE Cargo JV7x16
Enclosed 7x16 Trailer, Steel Frame, 16" OC Walls and Floor, 24" OC Roof, High Performance Walls, 3/4" Floor, V Nose, Screwed Seams, Side Door, Rear Ramp Door, LED Lights, 2-3500# Spring Axles, 4... More
$8,280.00
View Details
Welcome to B&B Trailers, Inc.

B&B Trailers, Inc. is a family owned and operated business, located at 1054 W. Sumner St. (HWY 60) in Hartford, WI. The business was started by Bob and Pat Baus in 1986 selling exclusively for Karavan Utility Trailers. Our line of trailers now consists of Enclosed, Snowmobile, Utility, Equipment, Dump, ATV, Car Haulers, and Boat Trailers.

Since 1986, the business has grown to include many different manufacturers and more than 100 trailers in stock. If we do not have a particular trailer in stock, we will try to get it for you. We aim to please. The business is currently ran by Bob and Pat's son, Jim Baus. Jim, Ben, and Trisha currently handle the daily operations of the business. We enjoy our line of work and we enjoy helping and serving customers with all their hauling needs.

Trailer Financing

Leasing Services, LLC. provides lease financing for business or commercial trailer purchases. Simply contact Leasing Services to get credit approval, once approved select or order your trailer from B&B Trailers, we will submit the trailer paperwork to Leasing Services, they will generate the lease papers and you will be down the road in no time with your new trailer! Leasing Services is a local company with over 30 years of experience in the industry.
Find Your Next Trailer