Featured Trailers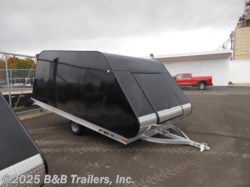 2016 Karavan Atomic 13-101-12-WB
Atomic 12' snow trailer, 2 place trailer, tilt bed, 2 steel tie downs, 1/2" Marine Grade Plywood Deck, Torsion Axles, Aluminum Frame, Black Top with 4x4 front access door, Tilt Assist
$3,175.00
$2,995.00
View Details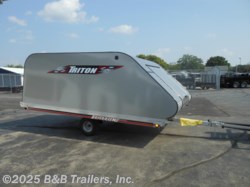 2016 Triton Trailers Elite 12R-101
Elite 12R-101, 2 place snow trailer, all aluminum, 5/8" marine grade plywood, aluminum tie down bars, full length quickslide, torsion axle, Ramp Load,  Pewter cover with 4x4 front access door
$3,995.00
$3,725.00
View Details
Welcome to B&B Trailers, Inc.

B&B Trailers, Inc. is a family owned and operated business, located at 1054 W. Sumner St. (HWY 60) in Hartford, WI. The business was started by Bob and Pat Baus in 1986 selling exclusively for Karavan Utility Trailers. Our line of trailers now consists of Enclosed, Snowmobile, Utility, Equipment, Dump, ATV, Car Haulers, and Boat Trailers.

Since 1986, the business has grown to include many different manufacturers and more than 100 trailers in stock. If we do not have a particular trailer in stock, we will try to get it for you. We aim to please. The business is currently ran by Bob and Pat's son, Jim Baus. Jim, Ben, and Trisha currently handle the daily operations of the business. We enjoy our line of work and we enjoy helping and serving customers with all their hauling needs.

Trailer Financing

Trailer Leasing, LLC. provides lease financing for trailers. Simply contact Trailer Leasing to get credit approval, once approved select or order the trailer from B&B Trailers, Inc., we will submit the trailer paperwork to Trailer Leasing, they will generate the lease papers and you will be done the road in no time with your new trailer! Trailer Leasing holds all of their leases in-house; from the application to the end of the lease, they are your sole contact.
Find Your Next Trailer